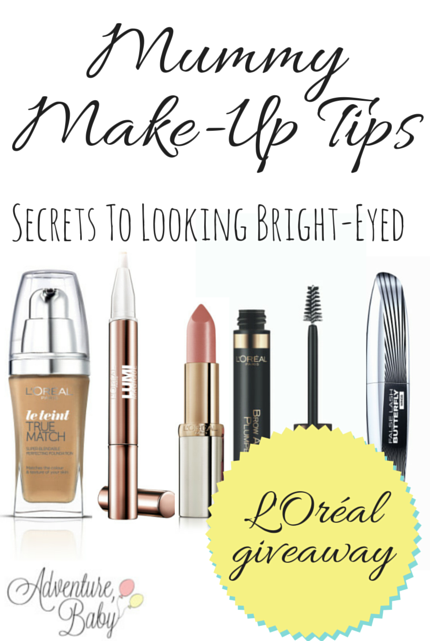 I'm pretty rubbish at putting on make-up on a day-to-day basis. I always have the best intentions to put on a bit of foundation, but I'm lucky if I remember to slap on sunscreen. Part of the problem is not knowing how to make myself look decent with minimal effort – because, let's face it, who has the time to fuss with make-up when you've got little kids underfoot?
I've teamed up with L'Oréal and beauty writer and YouTuber Fadhila Prabu to bring you a simple tutorial on ways to use make-up effectively – and quickly – to give you that bright-eyed and awake look you used to have pre-kids. At the end of the tutorial you can enter my giveaway to win the exact same L'Oréal products for yourself. I love these make-up tips for mums on the go – thank you Fadhila for sharing your secrets with us!

L'Oréal and Adventure, Baby! are giving one lucky Australian reader the opportunity to win a make-up pack valued at $124.75, containing:
L'Oréal Paris True Match Foundation RRP $29.95
L'Oréal Paris Lumi Magique Concealer RRP $27.95
L'Oréal Paris False Lash Butterfly Wings in Black RRP $25.95
L'Oréal Paris Brow Artist Plumper 04 in Dark Brunette RRP $18.95
L'Oréal Paris Colour Riche Made-For-Me in 235 Nude RRP $21.95
Entry open to Australian residents only. The most creative answer will win. This is not a game of chance. Competition is open Saturday May 29th 2015 to 11:59pm Saturday June 6th 2015. For full terms and conditions click here.
Thank you to L'Oréal for providing the products to create this tutorial. All opinions are by Christine Knight and Fadhila Prabu.
Linking up with Bron.