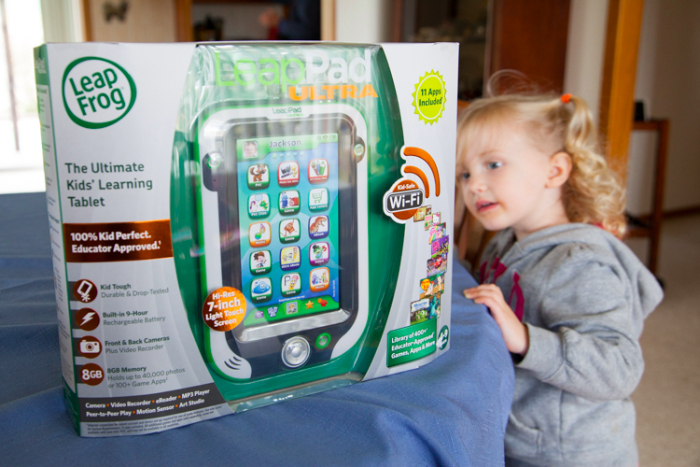 If you're looking for an educational tablet for your child, but are reluctant to hand over your iPhone or iPad, then listen up. Our review and giveaway this week is for a LeapFrog LeapPad Ultra.
The kind people at LeapFrog sent us a tablet to try out with our toddler, and we had fantastic fun giving it a whirl. The LeapPad Ultra, which was launched last October, is the first kids' tablet with kid-wifi – which is essentially a kid safe web and wifi experience. With a built-in 9 hour rechargeable battery, it will last long car rides and flights. It also comes with 8MB memory, which holds up to 40,000 photos or 100+ games/apps.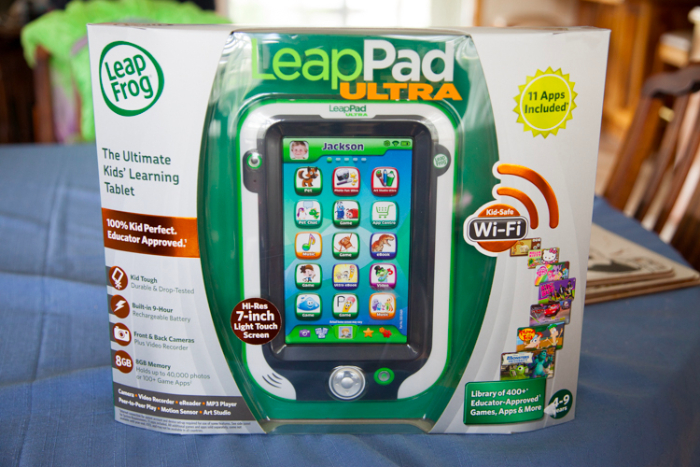 Firstly, the tablet is indeed super tough, built to be chucked around by small people. This is crucial when you have a 3-year-old like mine who is not, shall we say, gentle or careful with her things.
The tablet was super easy to charge and start operating. A quick sign-in process registered the account with Leap Frog, and also created separate user accounts on the tablet, incase we wanted to add another child to the device. Very cool feature if the device is being shared between children of different ages.
The high-res touch screen is a good, big size, at 7 inches. It has a front and back camera installed that makes for fun games with the built-in camera game. My child loves taking photos of herself, so this was an immediate hit. The tablet also has a video camera installed, incase your kid wants to make videos (we're not there yet, but I'm sure we will be soon!).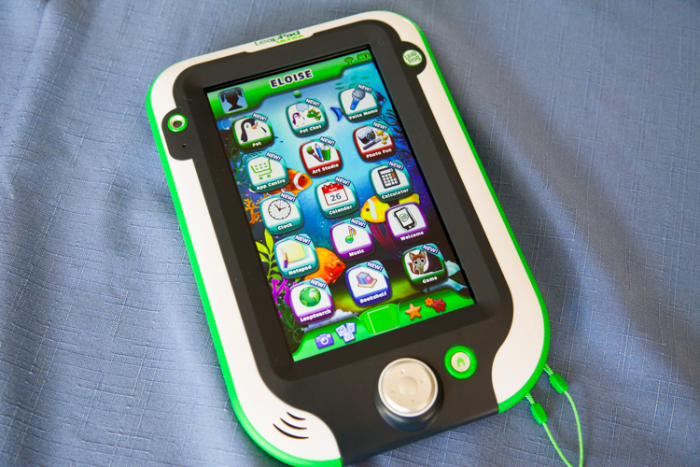 Straight out of the box, the LeapPad Ultra comes equipped with 11 apps and of fun features, designed by experts just for kids. Older children in particular will get a lot of use out of the built-in apps, which include writing, drawing, snapping photos and making videos. The art studio app and pet game were the biggest hits with Miss E. The art app in particular has a wide variety of tools that can be used – far more than I've experienced from other art apps. It even has a cute animal footprint feature, where you select the animal and its footprints appear to be walking across the screen.
The tablet connects to wi-fi, so it's easy to download more games and apps, or connect to other devices. Some of the games enable the tablets to "talk" to each other, which is so much fun for older kids in particular.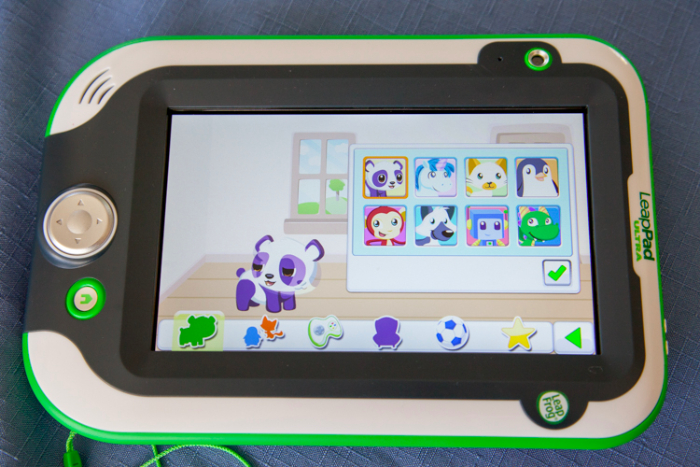 Miss E found the tablet very easy to use, but I do have to log in for her to use it if it's been turned off as it's password enabled. An older child would have no problem with this however, and it's a great security device.
One of the things I love the most about the tablet, and the reason I wanted to try it, was because it's a super safe device for my child. She can't find inappropriate content, or accidentally download apps or click on in-app purchases. I can also rest easy knowing that all of the apps and games have been designed by the LeapFrog learning experts. The games and apps are all educational as well as fun.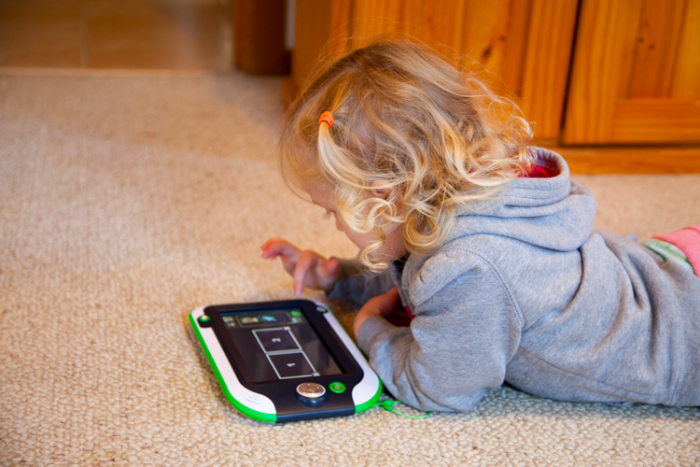 If you want to add more games and apps, you can either download them from the app store online, or buy a cartridge that plugs into the side of the device. There are pros and cons to each. Obviously it's easiest to load up the device with apps, but when you run out of space, what do you do? If you buy the cartridges, you have to bring some along with the device to rotate in and out, but it does then mean that you can have unlimited games, and you can also re-sell them when your child outgrows them.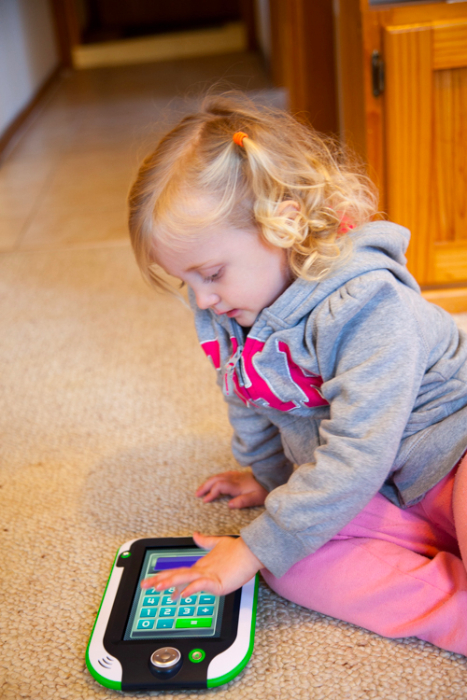 LeapFrog has created over 400 apps, games, videos, eBooks, music, and more for the tablet, so there is a lot of great content for kids aged four to nine. Games are designed to automatically adjust to your child's level, to keep them challenged and inspired to learn.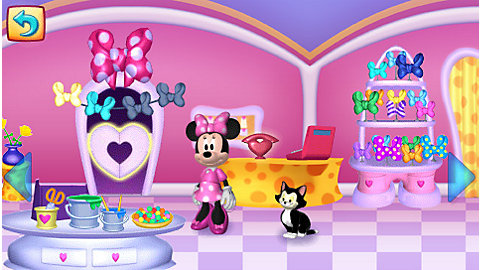 Particularly good for Missy E's age is the Minnie Mouse Bow-tique Super Surprise Party (an additional game that does not come with the device). She adores Minnie Mouse and really took to this game because it included one of her favourite characters. I liked the educational components of the game: it helps children's listening, logic and reasoning skills, plus focuses on colours,blending sounds into words and also the difference between uppercase and lower case letters. The last feature is a little advanced for a three-year-old, but is a good demonstration of how the games grow with kids.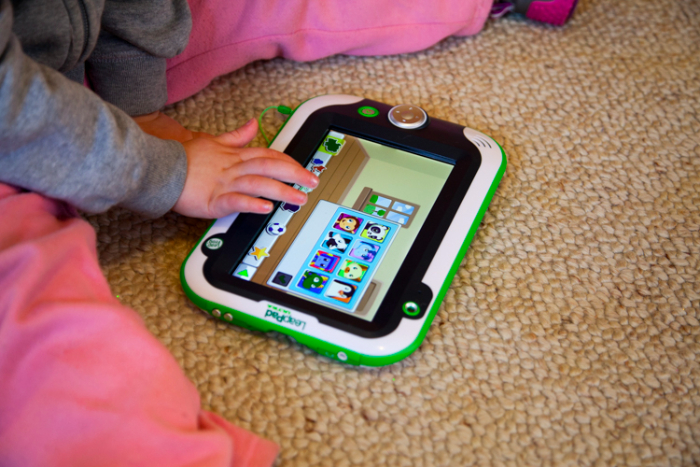 The LeapFrog LeapPad Ultra tablet is really designed to keep kids entertained, while encouraging a love of learning. Created in a truly kid-safe tablet that can't be smashed when accidentally dropped, it's a great buy for a kid for their birthday or Christmas (is the holiday season really coming up already? Whaaaaat!).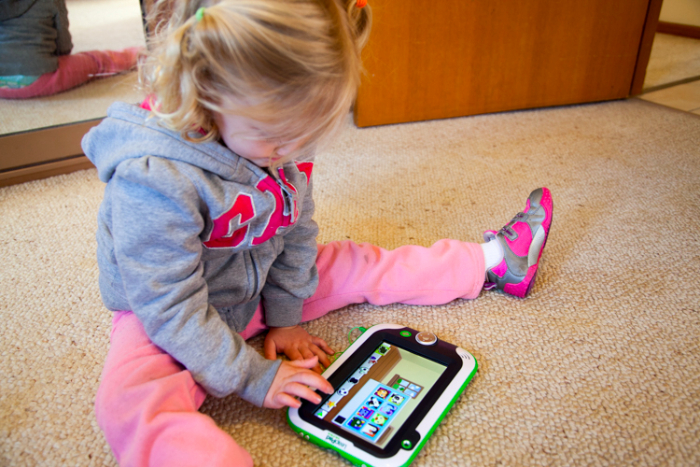 The LeapFrog LeapPad Ultra retails for RRP $199-$229, dependent on retailers.
We are so excited to offer Brunch With My Baby Australia readers the chance to with their own LeapFrog LeapPad Ultra tablet  (RRP $229) and downloadable app centre card ($29.99).
Entry is open to Australian mailing addresses only, via the Rafflecopter widget below. 
The competition opens 12:01am Tuesday September 16, to 11:59pm Monday September 29, 2014.