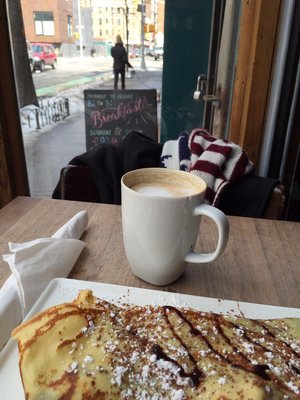 The Sweet Little Cafe recently re-opened with new management. It's a cute little cafe that serves crepes, sandwiches, pastries and coffee. While the food is good, it's sadly not baby-friendly in the least. Housed in a very small space, there are few tables, definitely no room for strollers, and the wait on the crepes has been an hour each of the two times that we have dropped by. Stop by with older kids only!
Highchairs: No.
Stroller storage: No.
Easy access: Yes (One step).
Change tables: No.
Kids' menu: No.
The Sweet Little Cafe
73 Hoyt St
Brooklyn, NY 11217
Phone: (718) 858 8998
Prices: $$
Hours: Mon-Fri 8am-6pm Sat 9am-5pm Sun 10am-3pm
Get directions.
Image thanks to Yelp.