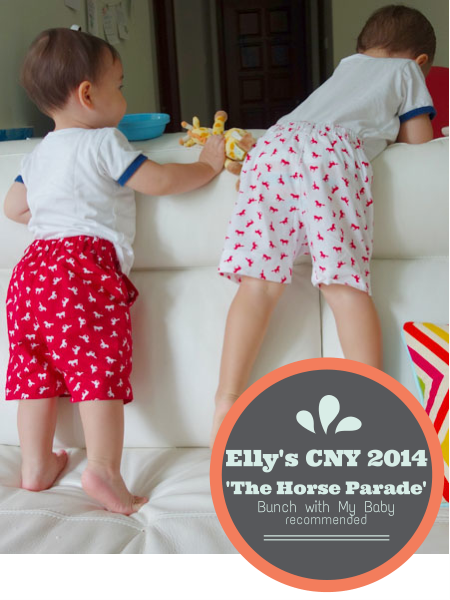 Elly, the popular childrens boutique, officially launches their Chinese New Year 2014 collection TODAY! 
Titled "The Horse Parade", it's a total eye-candy extravaganza. It's cute. REALLY cute. It also made me wonder where my invisible daughter is.. because OH MAN THE GIRLS STUFF IS SERIOUSLY CUTE. If you have a daughter, be warned – you'll be stumped as to how to stop at just one piece. If you have a son, take comfort that there's still cute boys stuff (especially their shorts!), albeit less designs.
We got a little preview of the clothes in real life, and did a mini photoshoot right there and then after a hearty brunch at GRUB!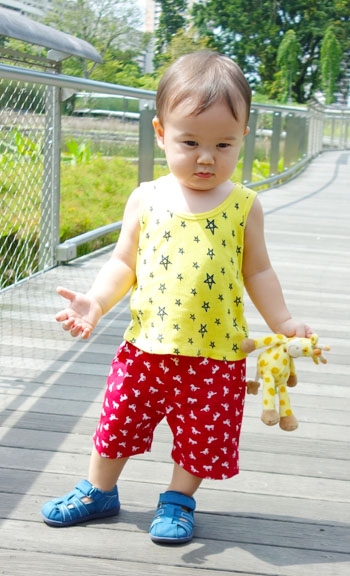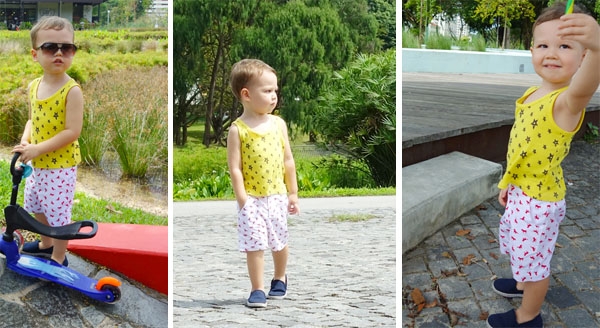 The kids are wearing as follows:
Carter (16 months) wears Bermudas in White Horses, in a sz 2. It fits him perfectly around the waist (he wears a diaper), but you'll see that the shorts go below his knees. I love this size because I'm sure I'll get at least a year's wear out of this!
Hunter (2 years) wears Bermudas in Red Horses, also in a sz 2. It's interesting to see how the same size shorts look different on both kids! On Hunter, it fits around his waist (because he wears underwear), but looks more like fitted shorts on him.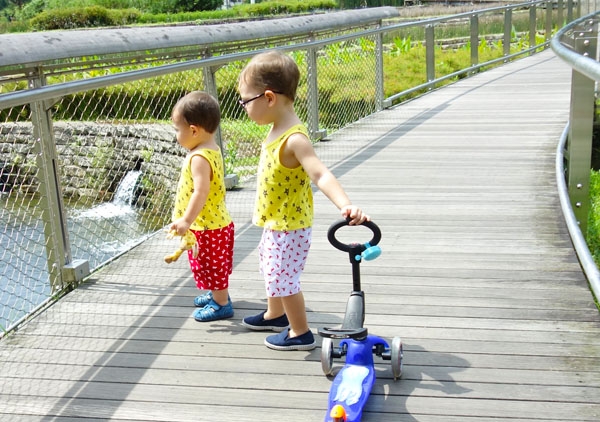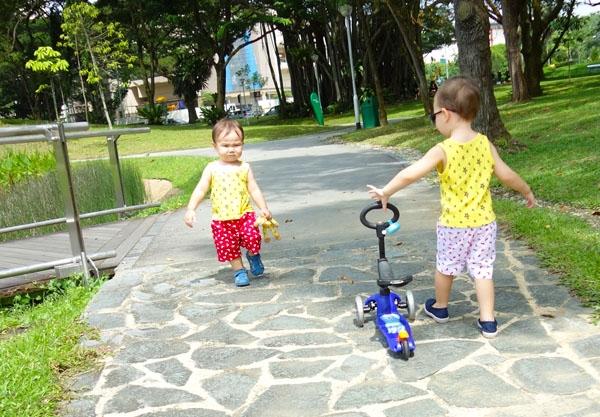 Made of soft but durable cotton, these shorts are easy-wearing and comfy. The kids didn't fuss in them and I like how the shorts will keep them cool when we're not in air conditioning.
In particular I LOVE how these are appropriate for Chinese New Year, yet perfectly wearable year-round. They have that cool preppy vibe and I intend to send Hunter to his play school in them.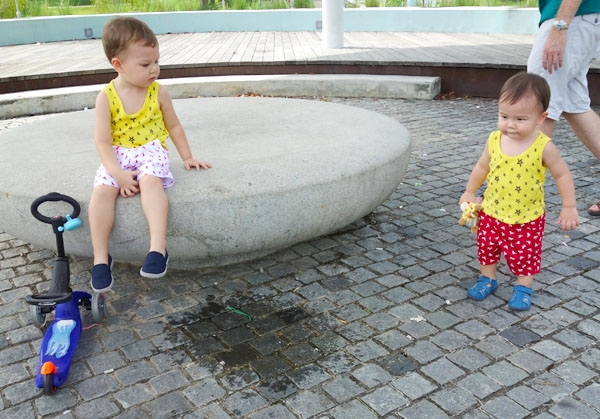 There are MANY more designs for the boys – in both shorts and shirts. Check out the full range (and buy online with free shipping) at the Elly online boutique.
And the girls? Oh man, oh man. So many pretty prints and colours, you'll wish they came in larger sizes for yourself 😉 Here we have pictured the Girls Cheongsam and Boys Shirt in the 'White Horses' print.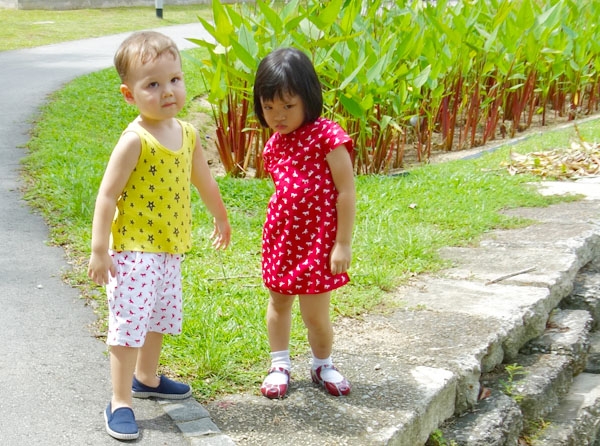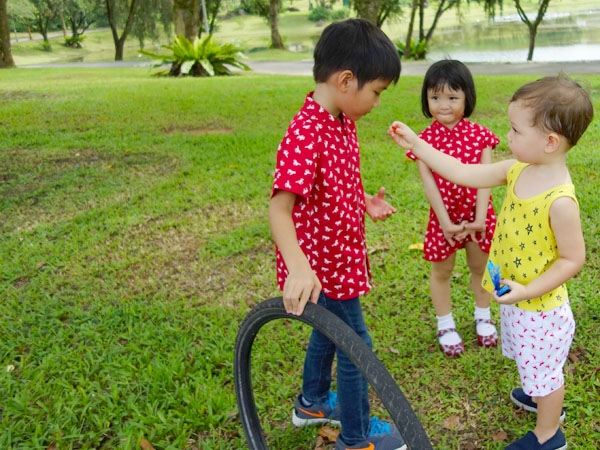 And a photo of the clothes we were going craaazzzzyyyy over!!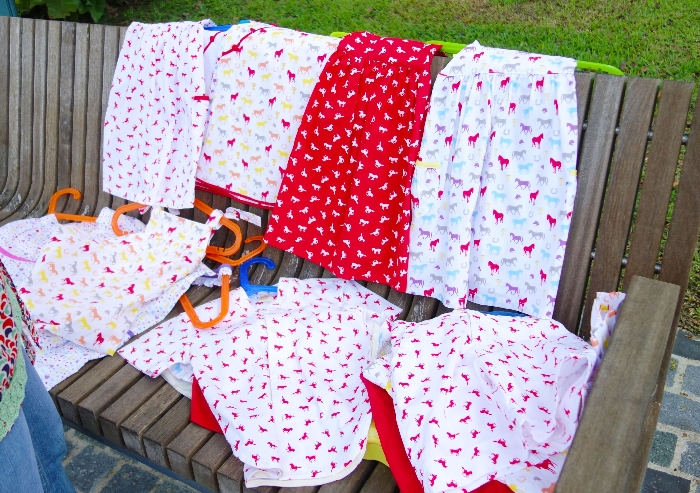 The boys went to a birthday party after that, and I changed their tops to give them a sailor look. You'll see here how the shorts are versatile and how they can be worn with 'regular' clothing.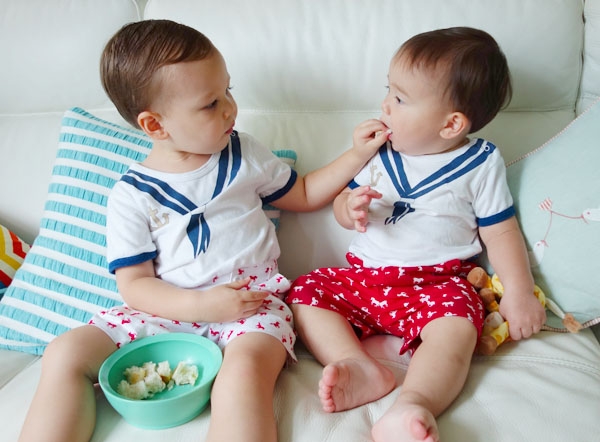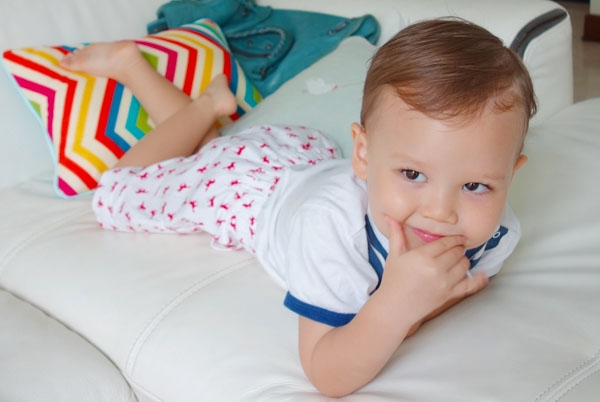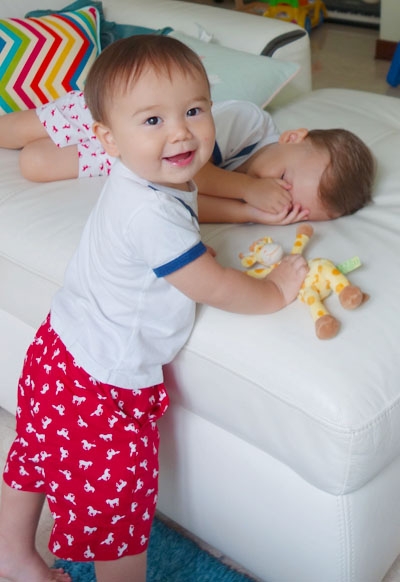 Bummer they don't do mens sizes in the shorts. I would totally force my husband into a pair to go matchy-match with the boys – teehee!!!!
Elly's CNY 2014 launches today (16 Dec 2013) in their boutique and online. Hundreds of pieces have been snapped up for reservation already, so get yourself in there quick!